DIAMANTE 40 white high-gloss
Multifaceted planter
Availability:
This item is currently not available.
DIAMANTE's unique surface structure featuring a high-gloss finish reveals the planter's multifaceted personality from every angle. DIAMANTE's diversity and expressiveness make it ideal for both tall and exotic plants – and, arranged in an ensemble, it can bring even austere surroundings to life.
Product information
All-in-One set includes

planter + planter liner + sub-irrigation set
planter liner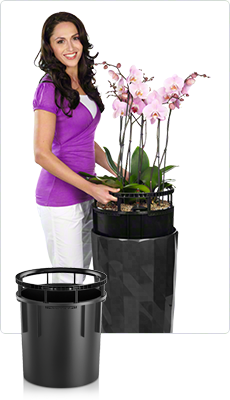 recessed colour-coordinated frame handles (patented)
easy transport even for tall plantings
can be exchanged on the spot
easily moved for space-saving winter storage
interchangeable planter liner fits in both DIAMANTE and RONDO 40 planters
The original LECHUZA sub-irrigation system
LECHUZA's sub-irrigation system takes care of your plants for you for up to 12 weeks, ensuring that they receive the right amount of water and nutrients they need for optimum growth.