in stock
Total price
Please note that sales tax applies in several provinces: read "Terms and Conditions". All prices are exclusive of decoration and plant.
Shipping and Handling: Over C$ 250.00 free.
Regular Service: 7-10 Business days.
CUBE LS Color 35 slate All-in-One Set
Elegance cubed
Whether on your patio or in your living room, the cube-shaped planter with the same surface structure as LECHUZA-PURO is perfect for showcasing beautiful plants.
CUBE LS Color All-in-One Set includes

planter + planter liner + sub-irrigation system
CUBE LS Color planter liner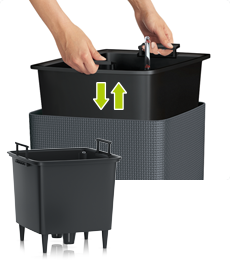 sturdy carrying handles (patented)
easy transport even for tall plantings
can be exchanged on the spot
easily moved for space-saving winter storage
The original LECHUZA sub-irrigation system
LECHUZA's sub-irrigation system takes care of your plants for you for up to 12 weeks, ensuring that they receive the right amount of water and nutrients they need for optimum growth.