CLASSICO LS 28 espresso metallic
only 5 in stock
Total price
Please note that sales tax applies in several provinces: read "Terms and Conditions". All prices are exclusive of decoration and plant.
Shipping and Handling: Over C$ 250.00 free.
Regular Service: 7-10 Business days.
CLASSICO LS 28 espresso metallic All-in-One Set
with interchangeable planter liner
CLASSICO LS with interchangeable planter liner (patented), called liner system.
The unique advantages of CLASSICO LS:
Changing the planting is easy
Trimming roots is a snap
Our tip: From time to time, rinse the plant in the interchangeable liner under running water to remove dust.
Mobile even when planted: CLASSICO 43 to 70 is mobile even when planted thanks to the optional coaster.
All-in-One Set includes

planter + planter liner with sub-irrigation set
planter liner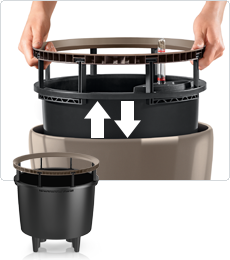 recessed colour-coordinated frame handles (patented)
easy transport even for tall plantings
can be exchanged on the spot
change plants, repot them, trim the roots or rinse the leaves
The original LECHUZA sub-irrigation system
LECHUZA's sub-irrigation system takes care of your plants for you for up to 12 weeks, ensuring that they receive the right amount of water and nutrients they need for optimum growth.
available accessories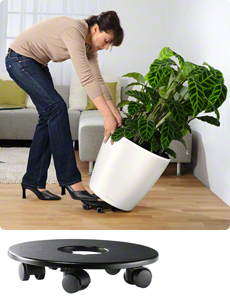 coaster
mobile in every direction
with sturdy rollers
makes CLASSICO mobile – without being seen
for sizes 43, 50