CLASSICO 60 black high-gloss
only 7 in stock
Total price
Accessories
Coaster for CLASSICO 60 | CUBE 50
The LECHUZA-coaster makes your plants mobile! It almost disappears under CLASSICO, CUBE, CANTO and QUADRO models size 40 and above. Five stable rollers make it easy to move up to 180 kg.
+
Coaster for CLASSICO 60 | CUBE 50
Please note that sales tax applies in several provinces: read "Terms and Conditions". All prices are exclusive of decoration and plant.
Shipping and Handling: Over C$ 250.00 free.
Regular Service: 7-10 Business days.
CLASSICO 60 black high-gloss All-in-One Set
Natural beauty
CLASSICO 60 and 70 are still available as All-in-One sets with conventional sub-irrigation system.
Available accessories:
Coasters
All-in-One Set includes

planter + sub-irrigation set
The original LECHUZA sub-irrigation system
LECHUZA's sub-irrigation system takes care of your plants for you for up to 12 weeks, ensuring that they receive the right amount of water and nutrients they need for optimum growth.
available accessories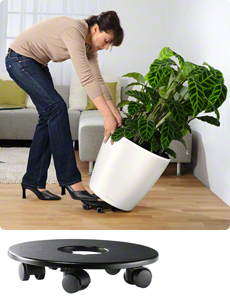 coaster
mobile in every direction
with sturdy rollers
makes CLASSICO mobile – without being seen
for sizes 60, 70