CASCADA Color 3-pc tower slate
Space-saver: Each CASCADA Color planter holds up to 13 plants.
Availability:
This item is currently not available.
LECHUZA's CASCADA Color planter is an all-in-one wonder: It's a strawberry pot, herb garden, flower tower and, most importantly, it flexibly adapts to any environment. Its modular design lets you combine up to 3 individual planters to form a tower.

Set components

Expansion set for building a stack consisting of 3 CASCADA slate
Item No. 14986

3x CASCADA Color slate
Item No. 14984
Product information
in All-in-One set included

stand-alone planter + sub-irrigation set
Accessories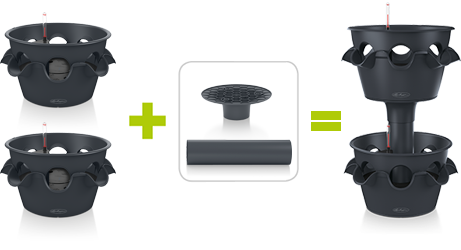 2 x planter + expansion set for 2-pc tower = 2-pc tower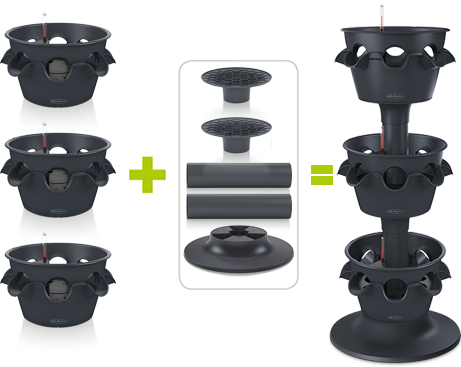 3 x planter + expansion set for 3-pc tower = 3-pc tower
Dimensions & Capacity
| | | | |
| --- | --- | --- | --- |
| | CASCADA Color | CASCADA Color 2-pc tower | CASCADA Color 3-pc tower |
| Dimensions ~ (W x H) | Ø 49 x 28 cm | Ø 49 x 71 cm | Ø 49 x 124 cm |
| Water reservoir | 8 l | 2 x 8 l | 3 x 8 l |
| Plant volume | 19 l | 2 x 19 l | 3 x 19 l |
| Planting depth | 17 cm | 17 cm | 17 cm |
| Plant height max. | 30 cm | 30 cm | 30 cm |
CASCADA Color 3-pc tower
| | |
| --- | --- |
| Dimensions ~ (W x H) | Ø 49 x 124 cm |
| Water reservoir | 3 x 8 l |
| Plant volume | 3 x 19 l |
| Planting depth | 17 cm |
| Plant height max. | 30 cm |
CASCADA Color 2-pc tower
| | |
| --- | --- |
| Dimensions ~ (W x H) | Ø 49 x 71 cm |
| Water reservoir | 2 x 8 l |
| Plant volume | 2 x 19 l |
| Planting depth | 17 cm |
| Plant height max. | 30 cm |
CASCADA Color
| | |
| --- | --- |
| Dimensions ~ (W x H) | Ø 49 x 28 cm |
| Water reservoir | 8 l |
| Plant volume | 19 l |
| Planting depth | 17 cm |
| Plant height max. | 30 cm |