CANTO Stone 40 low sand beige
Straight lines in a natural stone look
Availability:
This item is currently not available.
plus shipping costs
Shipping and Handling
Up to $ 25.00 = $ 5.00
Up to $ 50.00 = $ 8.00
Up to $ 100.00 = $ 10.00
Up to $ 250.00 = $ 12.00
Over $ 250.00 = free shipping

Please note that due to the high data volume, the 3D viewer should be loaded with an existing WLAN connection. On mobile devices, the viewer allows you an augmented reality (AR) function. You can visualize a LECHUZA planter in your room. To do so, please click on the cube icon.
If you like a clear design you will love the CANTO Stone. The rough natural stone look in three different colors creates a wonderful contrast to lush greens and colorful flowers. The CANTO Stone cube and column planters have the same dimensions, so you can easily use the same planter liner in both models.
Product information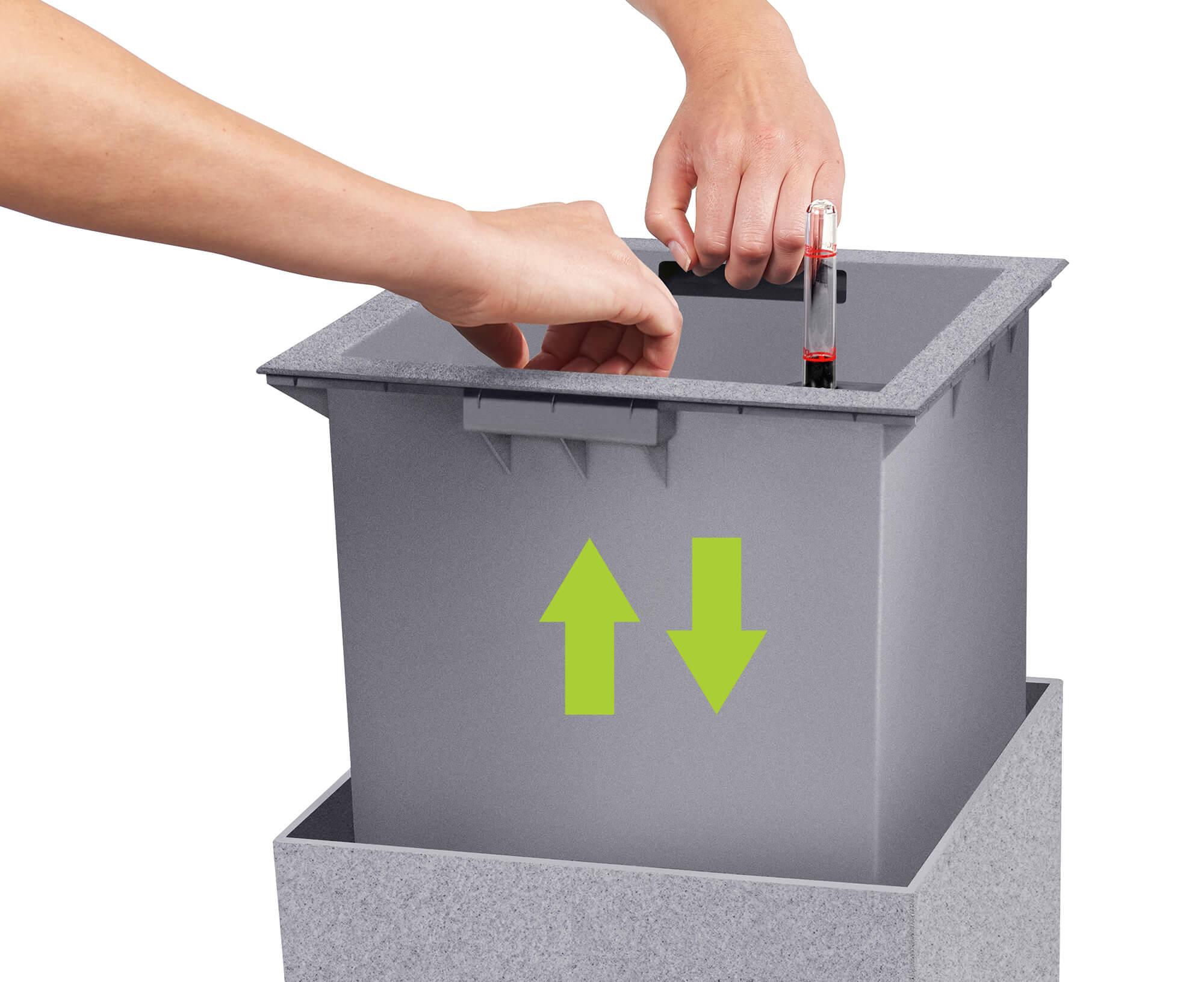 CANTO Stone planter liner
interchangeable planter liner – closed, with colour-coordinated frame and integrated handles
easy transport even for tall plantings
can be exchanged on the spot and easily moved for winter storage
for indoor and outdoor planting, with drain plug
Dimensions & Capacity
| | | |
| --- | --- | --- |
| | CANTO Stone 30 low | CANTO Stone 40 low |
| Dimensions ~ (W x D x H) | 30 x 30 x 30 cm | 40 x 40 x 40 cm |
| Water reservoir | 3 l | 7 l |
| Plant volume | 12 l | 29 l |
| Planter liner, dimension ~ | 25 x 25 cm | 34 x 34 cm |
| Planting depth | 20 cm | 25 cm |
| Plant height max. | 60 cm | 100 cm |
CANTO Stone 40 low
| | |
| --- | --- |
| Dimensions ~ (W x D x H) | 40 x 40 x 40 cm |
| Water reservoir | 7 l |
| Plant volume | 29 l |
| Planter liner, dimension ~ | 34 x 34 cm |
| Planting depth | 25 cm |
| Plant height max. | 100 cm |
CANTO Stone 30 low
| | |
| --- | --- |
| Dimensions ~ (W x D x H) | 30 x 30 x 30 cm |
| Water reservoir | 3 l |
| Plant volume | 12 l |
| Planter liner, dimension ~ | 25 x 25 cm |
| Planting depth | 20 cm |
| Plant height max. | 60 cm |