RONDO 32 scarlet red high-gloss
Unique elegance
Availability:
This item is currently not available.
plus shipping costs
Shipping and Handling
Up to $ 25.00 = $ 5.00
Up to $ 50.00 = $ 8.00
Up to $ 100.00 = $ 10.00
Up to $ 250.00 = $ 12.00
Over $ 250.00 = free shipping

Please note that due to the high data volume, the 3D viewer should be loaded with an existing WLAN connection. In the mobile view, the viewer allows you an augmented reality (AR) function. You can visualize a LECHUZA planter in your room.
The classic shape of the delicate RONDO planter shows off plants to their best advantage and puts them in the best light. Staged like sculptures, RONDO beautifies living and business spaces like green works of art. The plant insert with pantented handle makes it easier to replace and care for the plants in the usual LECHUZA quality.
The unique advantages:
Timeless, elegant design that matches the CLASSICO family of planters
Perfect shape for a variety of plants and interior layouts
Product information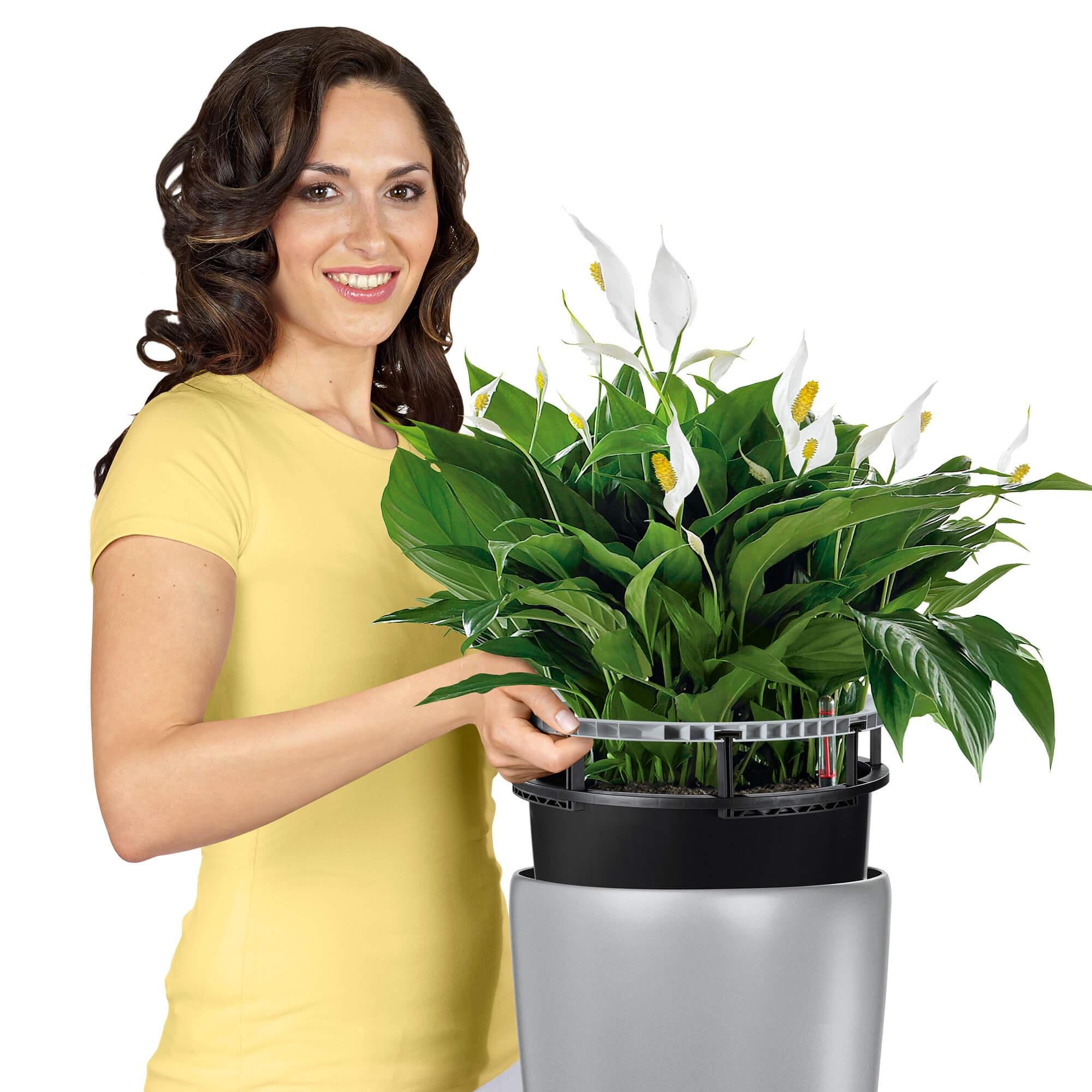 Planter liner
recessed colour-coordinated frame handles (patented)
easy transport even for tall plantings
can be exchanged on the spot
easily moved for space-saving winter storage
Dimensions & Capacity
| | | |
| --- | --- | --- |
| | RONDO 32 | RONDO 40 |
| Dimensions ~ (W x H) | Ø 32,5 x 56,5 cm | Ø 40 x 75 cm |
| Water reservoir | 4,0 l | 5,6 l |
| Plant volume | 13 l | 22 l |
| Planter liner, dimension ~ | Ø 27,5 cm | Ø 33,5 cm |
| Planting depth | 23 cm | 26,5 cm |
| Plant height max. | 60 cm | 100 cm |
RONDO 32
| | |
| --- | --- |
| Dimensions ~ (W x H) | Ø 32,5 x 56,5 cm |
| Water reservoir | 4,0 l |
| Plant volume | 13 l |
| Planter liner, dimension ~ | Ø 27,5 cm |
| Planting depth | 23 cm |
| Plant height max. | 60 cm |
RONDO 40
| | |
| --- | --- |
| Dimensions ~ (W x H) | Ø 40 x 75 cm |
| Water reservoir | 5,6 l |
| Plant volume | 22 l |
| Planter liner, dimension ~ | Ø 33,5 cm |
| Planting depth | 26,5 cm |
| Plant height max. | 100 cm |