CUBE Color 14 slate
No repotting or PON necessary. Uses wicking stick self-watering system. Grow pot not included.
plus shipping costs
Shipping and Handling
Up to $ 25.00 = $ 5.00
Up to $ 50.00 = $ 8.00
Up to $ 100.00 = $ 10.00
Up to $ 250.00 = $ 12.00
Over $ 250.00 = free shipping

Please note that due to the high data volume, the 3D viewer should be loaded with an existing WLAN connection. On mobile devices, the viewer allows you an augmented reality (AR) function. You can visualize a LECHUZA planter in your room. To do so, please click on the cube icon.
Herb fans watch out: with LECHUZA, greens thrives all year round on the windowsill. After the great success of the CUBE Color 14 with an integrated sub-irrigation system, the decorative herb cube in a delicate fabric look is also available now in a larger size. With the CUBE Color 16, grow pots with a diameter of 13 to 15 centimetres have space without any need for repotting - perfect for the popular Italian kitchen herbs.

Whether basil, thyme or rosemary, not all herbs in the grow pot can be completely processed immediately. In the LECHUZA CUBE Color, they can grow back in peace, so that the supply of fresh herbs does not run out.

The herbs do not even have to be repotted because the LECHUZA sub-irrigation system reliably supplies the herbs in the grow pot with moisture; simply insert the stick into the herb pot from below, place it in the CUBE Color and pour. Done!

The water reservoir supplies the plants reliably and individually with moisture. Whether with an edge length of 14 or 17 centimetres, the CUBE Color can transform any windowsill into a small herb garden. The CUBE Color 14 is ideal for all standard herb pots (10-12 cm diameter).

The high-quality, extra strong magnets ensure a secure hold. With their silky matt colours and finely woven weave, the vessels from the PURO Collection set practical and stylish design accents in the kitchen. In this way, even small gardens hanging from unusual places are created. The containers can be exchanged or rearranged as desired and can even be used as imaginative holders for kitchen utensils. Even in the smallest of kitchens there is enough room for fresh ideas!

CUBE Color 16: For all herb grow pots with a 13 - 15 cm Ø.
CUBE Color 14: For all herb grow pots with a 10 - 12 cm Ø.
Product information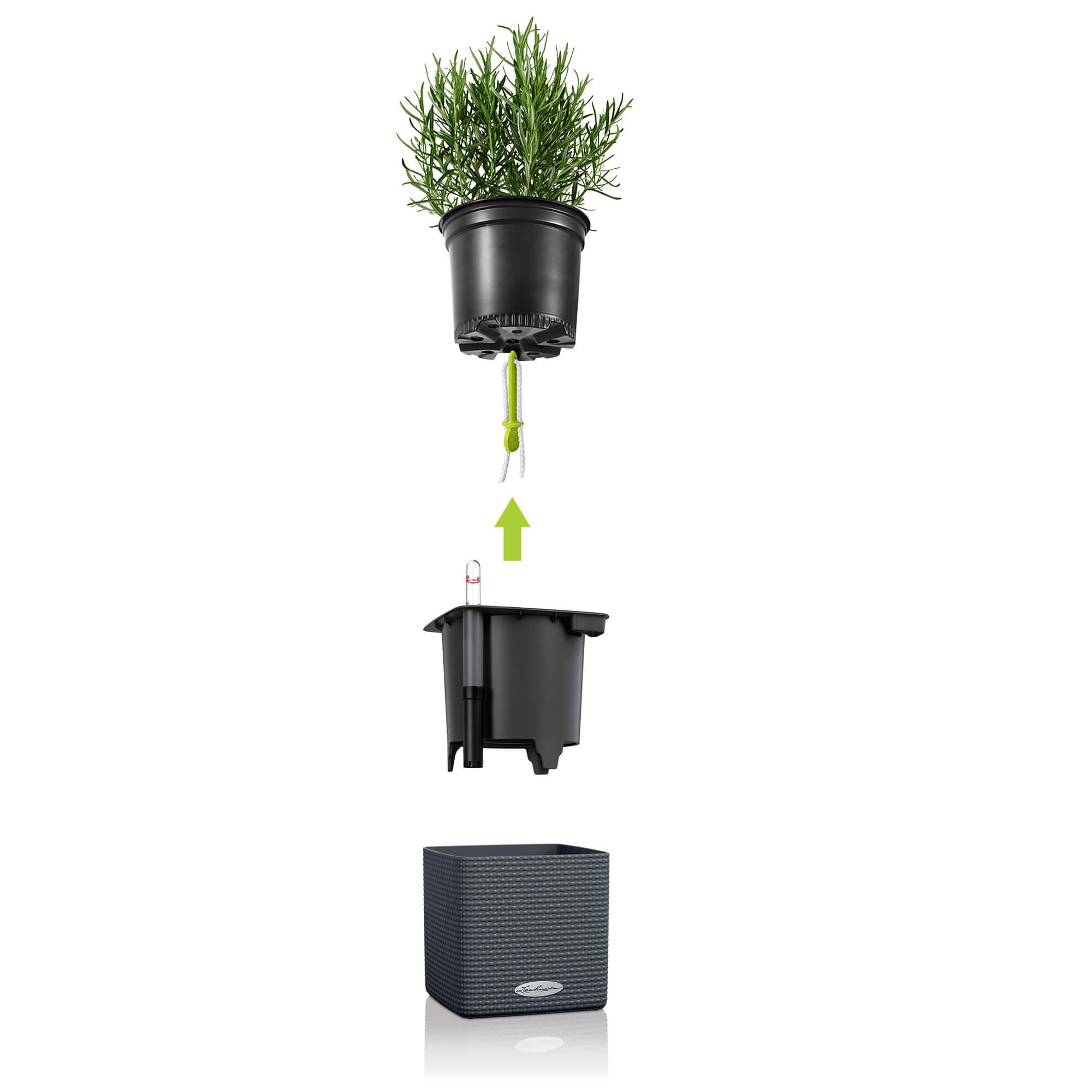 New system
With wick irrigation system
No repotting necessary - simply place store-bought herbs with grow pot in the planter
Food safe
Available in 2 sizes
CUBE Color 16: For all herb grow pots with a 13 - 15 cm Ø.
CUBE Color 14: For all herb grow pots with a 10 - 12 cm Ø.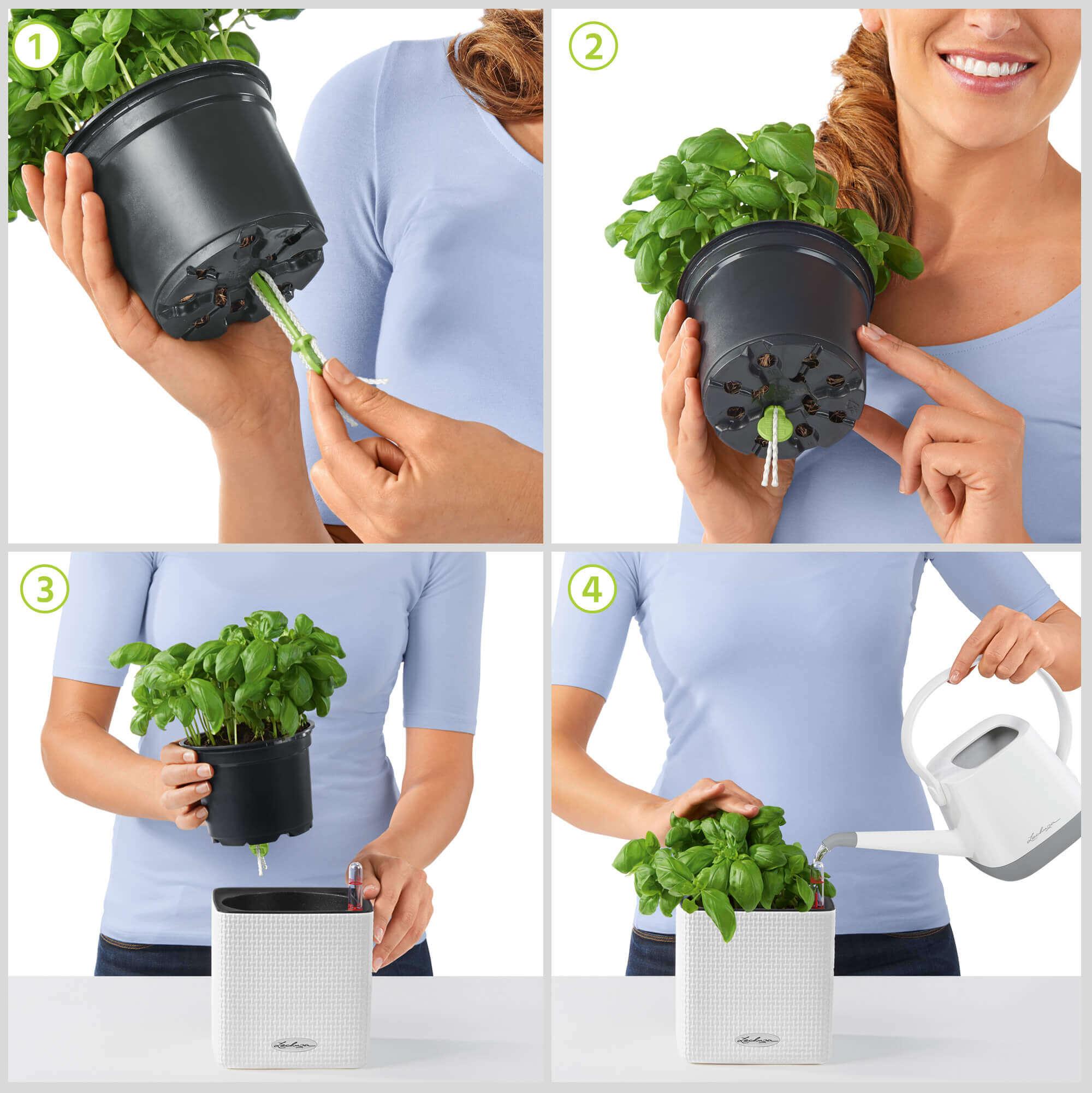 Easy to use
Insert wick in the grow pot.
Place grow pot in CUBE Color, water - done.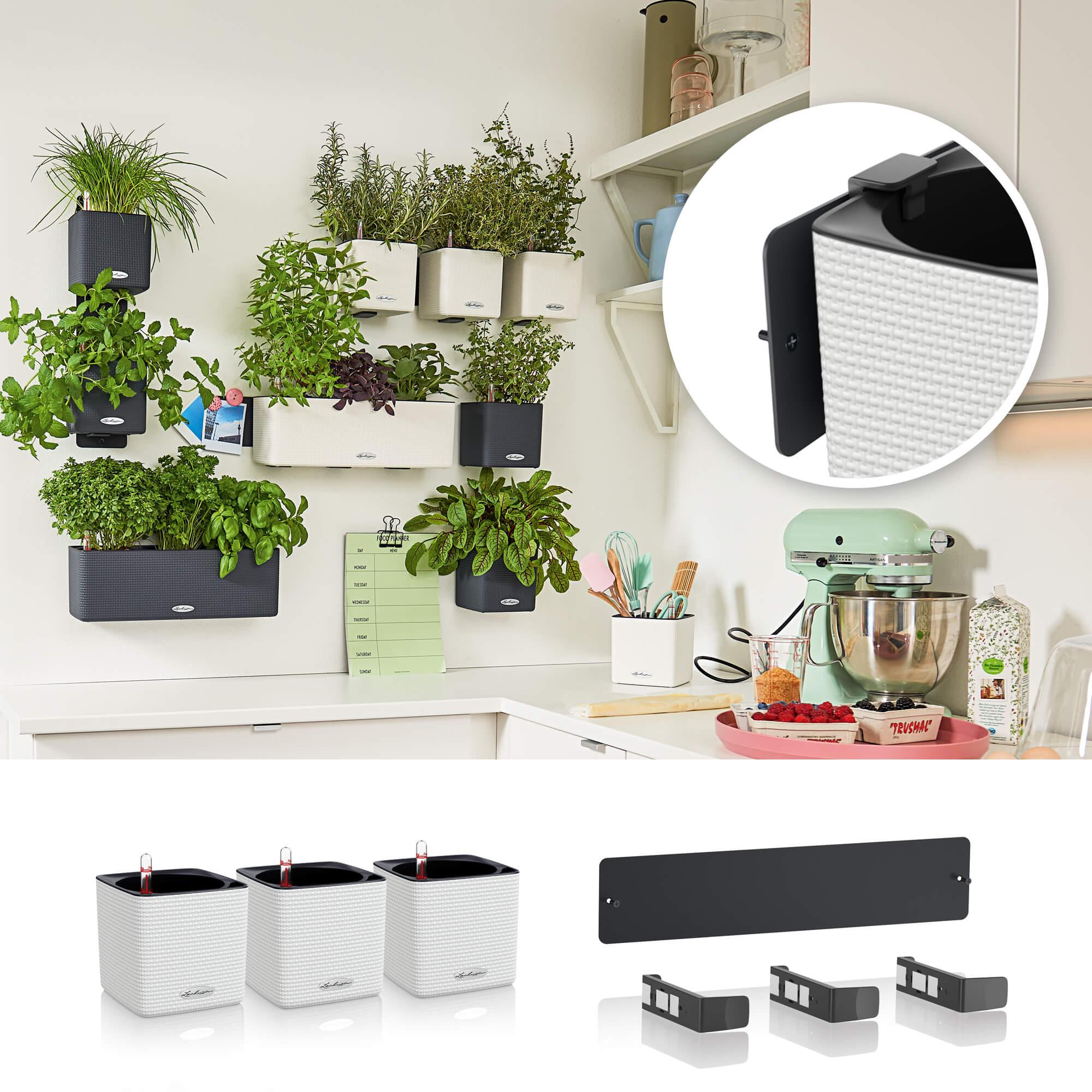 Green Wall Home Kit (CUBE Color 14)
Practical and space-saving. With the Green Wall Home Kit Color starter set, our beloved herb pots will find room in even the smallest kitchen.
3 × Planter with liner (CUBE Color 14) + wicks + 3 × magnetic holder + metal bar + screws
Metal bar: 48 x 10 cm
Magnetic brackets: 4 x 14 cm
Dimensions & Capacity
| | | |
| --- | --- | --- |
| | CUBE Color 14 | CUBE Color 16 |
| Dimensions ~ (W x D x H) | 14 x 14 x 13,5 cm | 17 x 17 x 16 cm |
| Water reservoir | 0,4 l | 0,7 l |
| Plant volume | Growpot | Growpot |
| Planter liner, dimension ~ | Ø 10-12 cm | Ø 13-15 cm |
| Plant height max. | 20 cm | 25 cm |
CUBE Color 14
| | |
| --- | --- |
| Dimensions ~ (W x D x H) | 14 x 14 x 13,5 cm |
| Water reservoir | 0,4 l |
| Plant volume | Growpot |
| Planter liner, dimension ~ | Ø 10-12 cm |
| Plant height max. | 20 cm |
CUBE Color 16
| | |
| --- | --- |
| Dimensions ~ (W x D x H) | 17 x 17 x 16 cm |
| Water reservoir | 0,7 l |
| Plant volume | Growpot |
| Planter liner, dimension ~ | Ø 13-15 cm |
| Plant height max. | 25 cm |