CUBICO 50 white high-gloss
Convertible classic
Availability:
This item is currently not available.
free shipping
Shipping and Handling
Up to $ 25.00 = $ 5.00
Up to $ 50.00 = $ 8.00
Up to $ 100.00 = $ 10.00
Up to $ 250.00 = $ 12.00
Over $ 250.00 = free shipping

Please note that due to the high data volume, the 3D viewer should be loaded with an existing WLAN connection. On mobile devices, the viewer allows you an augmented reality (AR) function. You can visualize a LECHUZA planter in your room. To do so, please click on the cube icon.
The LECHUZA classic! The elegant column has been part of the LECHUZA assortment since 2003 and enjoys neverending popularity. CUBICO can be presented in numerous sizes and colours - discreetly in an arrangement of several planters or as a solitary decorative highlight. Even multiple plantings find a stylish setting in the noble column.

The colour-neutral, removable plant inserts can be exchanged with all CUBICO models of the same size. With the matching roller coaster for CUBICO 30 and 40 the plant arrangements always remain mobile.
Unique advantages:
Plant liner and sub-irrigation set included
Coasters available for CUBICO 30 and 40
Product information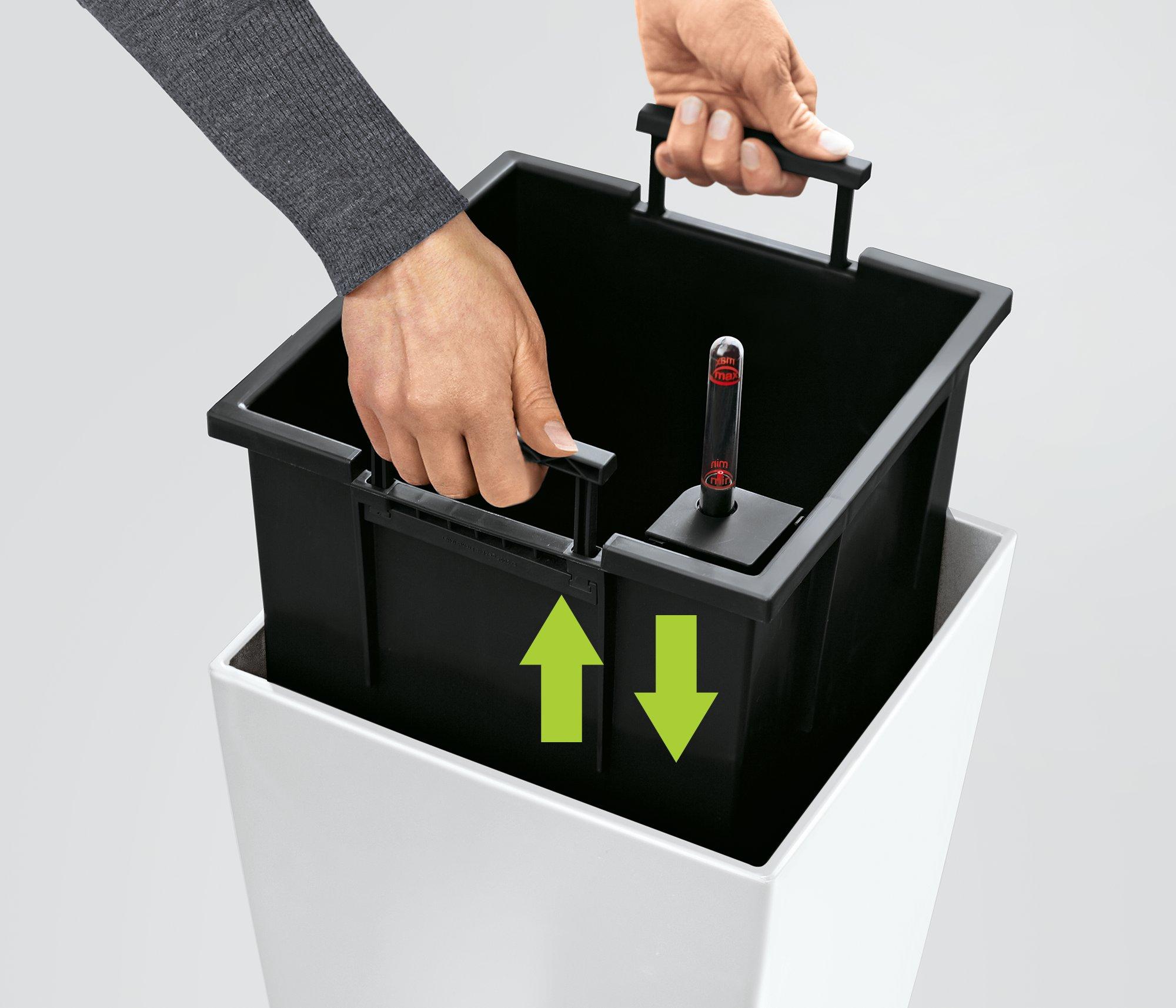 CUBICO planter liner
sturdy carrying handles (patented)
easy transport even for tall plantings
can be exchanged on the spot
easily moved for space-saving winter storage
The CUBICO 30 planter liner also fits in the TRIO 30, the CUBICO 40 and ALTO planter liner also fit in the CUBE 40 and TRIO 40.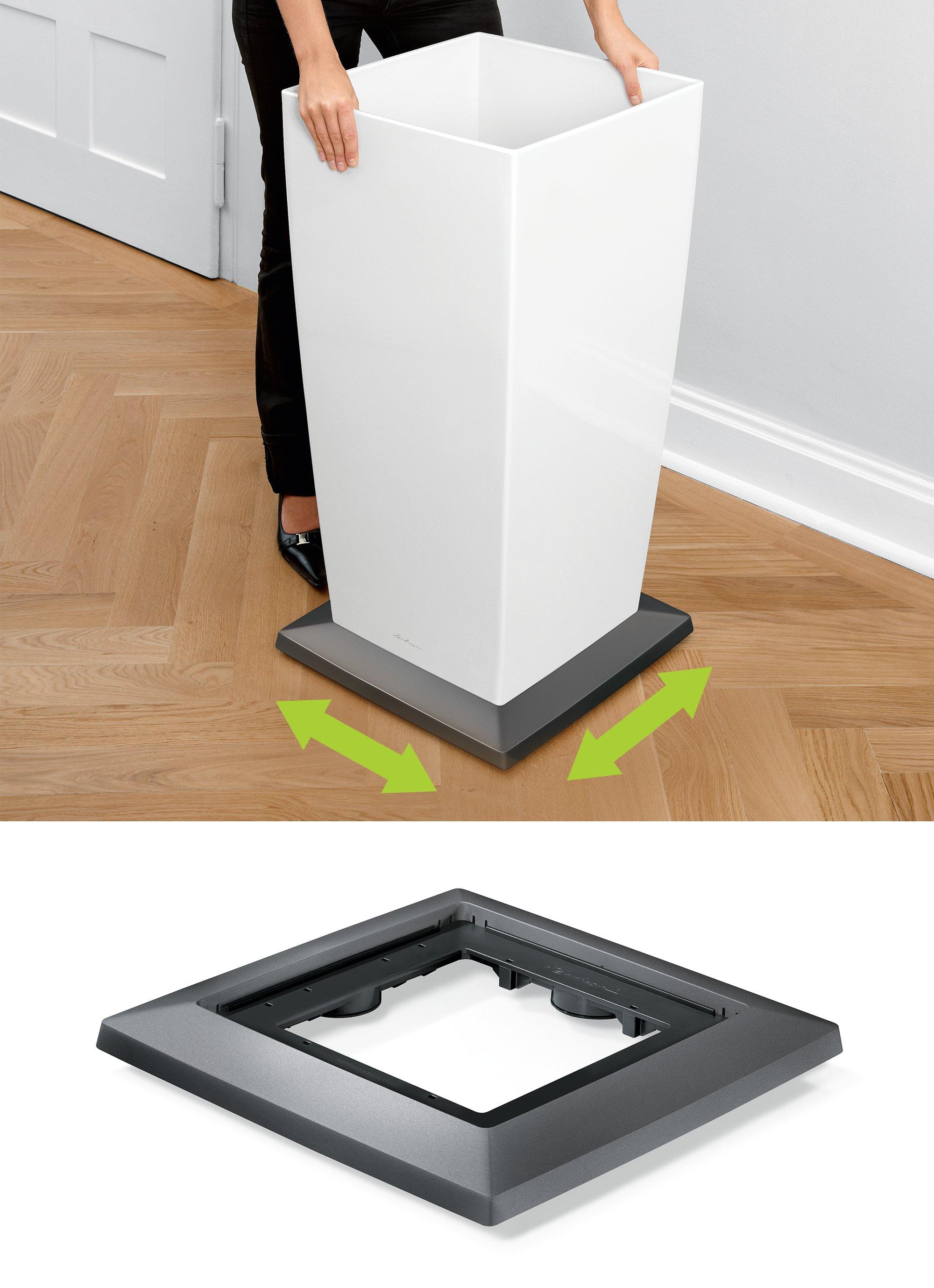 Available accessories: CUBICO Coaster
mobile in every direction
with four sturdy rollers
available for CUBICO 30 and 40
Dimensions & Capacity
| | | | | |
| --- | --- | --- | --- | --- |
| | CUBICO 22 | CUBICO 30 | CUBICO 40 | CUBICO 50 |
| Dimensions ~ (W x D x H) | 22 x 22 x 41 cm | 29,5 x 29,5 x 56,5 cm | 39,5 x 39,5 x 75,5 cm | 50 x 50 x 95 cm |
| Water reservoir | 2 l | 4 l | 7,5 l | 14 l |
| Plant volume | 6 l | 14 l | 31 l | 61 l |
| Planter liner, dimension ~ | 18,5 x 18,5 cm | 25 x 25 cm | 34,5 x 34,5 cm | 44 x 44 cm |
| Planting depth | 17,5 cm | 23 cm | 28 cm | 32 cm |
| Plant height max. | 50 cm | 60 cm | 100 cm | 120 cm |
CUBICO 50
| | |
| --- | --- |
| Dimensions ~ (W x D x H) | 50 x 50 x 95 cm |
| Water reservoir | 14 l |
| Plant volume | 61 l |
| Planter liner, dimension ~ | 44 x 44 cm |
| Planting depth | 32 cm |
| Plant height max. | 120 cm |
CUBICO 22
| | |
| --- | --- |
| Dimensions ~ (W x D x H) | 22 x 22 x 41 cm |
| Water reservoir | 2 l |
| Plant volume | 6 l |
| Planter liner, dimension ~ | 18,5 x 18,5 cm |
| Planting depth | 17,5 cm |
| Plant height max. | 50 cm |
CUBICO 30
| | |
| --- | --- |
| Dimensions ~ (W x D x H) | 29,5 x 29,5 x 56,5 cm |
| Water reservoir | 4 l |
| Plant volume | 14 l |
| Planter liner, dimension ~ | 25 x 25 cm |
| Planting depth | 23 cm |
| Plant height max. | 60 cm |
CUBICO 40
| | |
| --- | --- |
| Dimensions ~ (W x D x H) | 39,5 x 39,5 x 75,5 cm |
| Water reservoir | 7,5 l |
| Plant volume | 31 l |
| Planter liner, dimension ~ | 34,5 x 34,5 cm |
| Planting depth | 28 cm |
| Plant height max. | 100 cm |