CILINDRO Color 23 sand brown
Elegant striped appearance
Availability:
This item is currently not available.
plus shipping costs
Shipping and Handling
Up to $ 25.00 = $ 5.00
Up to $ 50.00 = $ 8.00
Up to $ 100.00 = $ 10.00
Up to $ 250.00 = $ 12.00
Over $ 250.00 = free shipping

Please note that due to the high data volume, the 3D viewer should be loaded with an existing WLAN connection. On mobile devices, the viewer allows you an augmented reality (AR) function. You can visualize a LECHUZA planter in your room. To do so, please click on the cube icon.
The elegant CILINDRO Color featuring a sophisticated pinstriped look is the perfect accessory for stylish settings. Its minimalistic design includes many small details to make a big impact and bring an extra dash of design to daily life.
Product information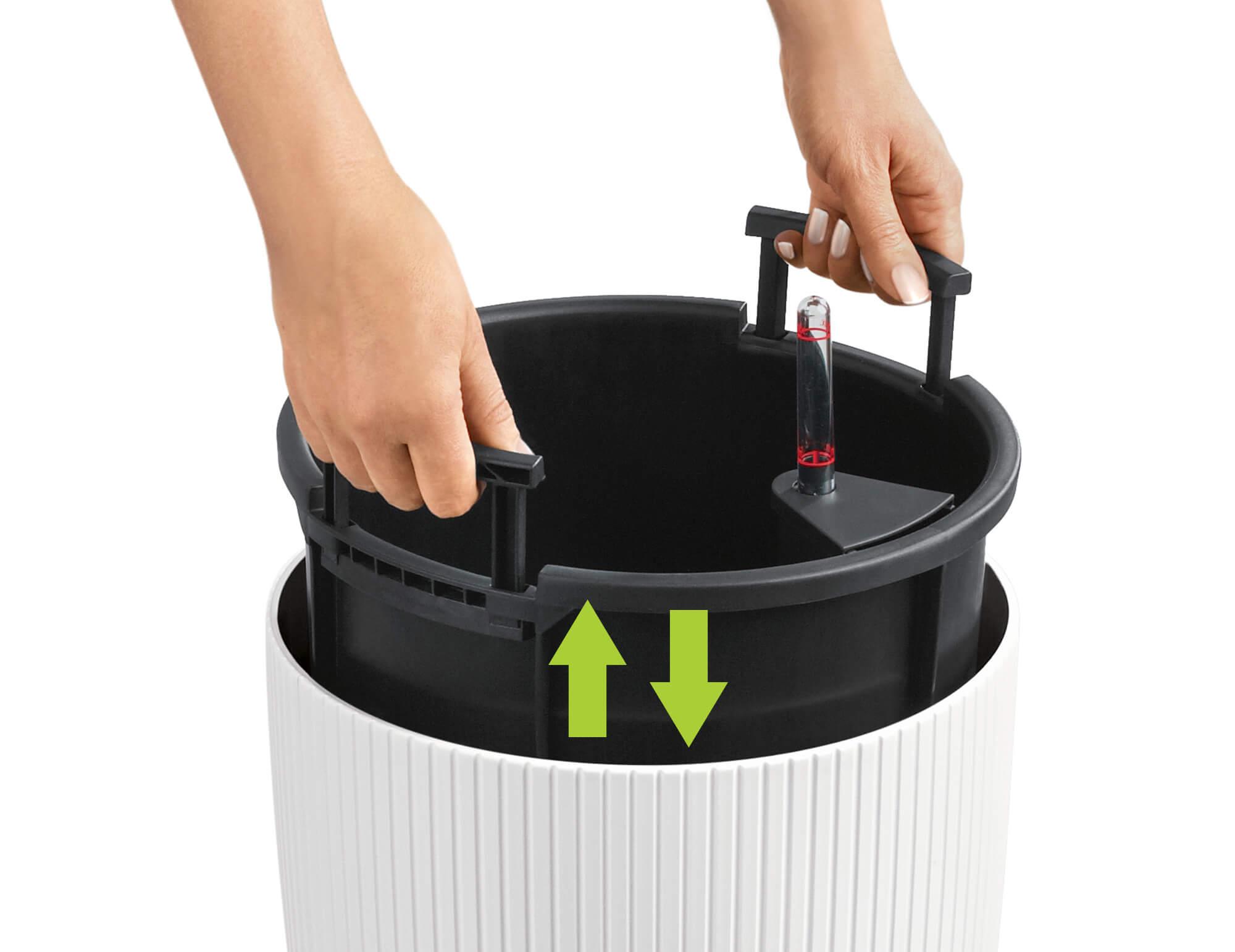 CILINDRO planter liner
sturdy carrying handles (patented)
easy transport even for tall plantings
can be exchanged on the spot and easily moved for winter storage
drain plug is removed to allow excess rainwater to drain when used outdoors
Dimensions & Capacity
| | | |
| --- | --- | --- |
| | CILINDRO Color 23 | CILINDRO Color 32 |
| Dimensions ~ (W x H) | Ø 23 x 41 cm | Ø 32 x 56 cm |
| Water reservoir | 1,5 l | 4 l |
| Plant volume | 5,5 l | 13 l |
| Planter liner, dimension ~ | Ø 19,5 cm | Ø 27,5 cm |
| Planting depth | 17,5 cm | 23 cm |
| Plant height max. | 40 cm | 60 cm |
CILINDRO Color 23
| | |
| --- | --- |
| Dimensions ~ (W x H) | Ø 23 x 41 cm |
| Water reservoir | 1,5 l |
| Plant volume | 5,5 l |
| Planter liner, dimension ~ | Ø 19,5 cm |
| Planting depth | 17,5 cm |
| Plant height max. | 40 cm |
CILINDRO Color 32
| | |
| --- | --- |
| Dimensions ~ (W x H) | Ø 32 x 56 cm |
| Water reservoir | 4 l |
| Plant volume | 13 l |
| Planter liner, dimension ~ | Ø 27,5 cm |
| Planting depth | 23 cm |
| Plant height max. | 60 cm |