BALCONERA Cottage 80 granite + LECHUZA Balcony brackets black
with interchangeable planter liner
Availability:
This item is currently not available.
plus shipping costs
Shipping and Handling
Up to $ 25.00 = $ 5.00
Up to $ 50.00 = $ 8.00
Up to $ 100.00 = $ 10.00
Up to $ 250.00 = $ 12.00
Over $ 250.00 = free shipping

The balcony box from LECHUZA brings balcony dreams to life: Conveniently plant the liners on the ground or a potting table. Attach BALCONERA to railings or walls and place the potted liners into the planter. That's it!
Included in the All-in-One Set: Plant liner with LECHUZA sub-irrigation system (BALCONERA 50 comes with one plant liner; BALCONERA 80 with two).
Accessories:
LECHUZA balcony brackets: Fit BALCONERA 50 and 80, suitable for mounting on railings with a circumference of up to 38 cm or on walls.
Our tip: Balcony box mounting straps are also available as an accessory for railings with circumferences larger than 38 cm.
Set components

BALCONERA Cottage 80 granite
Item No. 15612

LECHUZA Balcony brackets black
Item No. 19033
Product information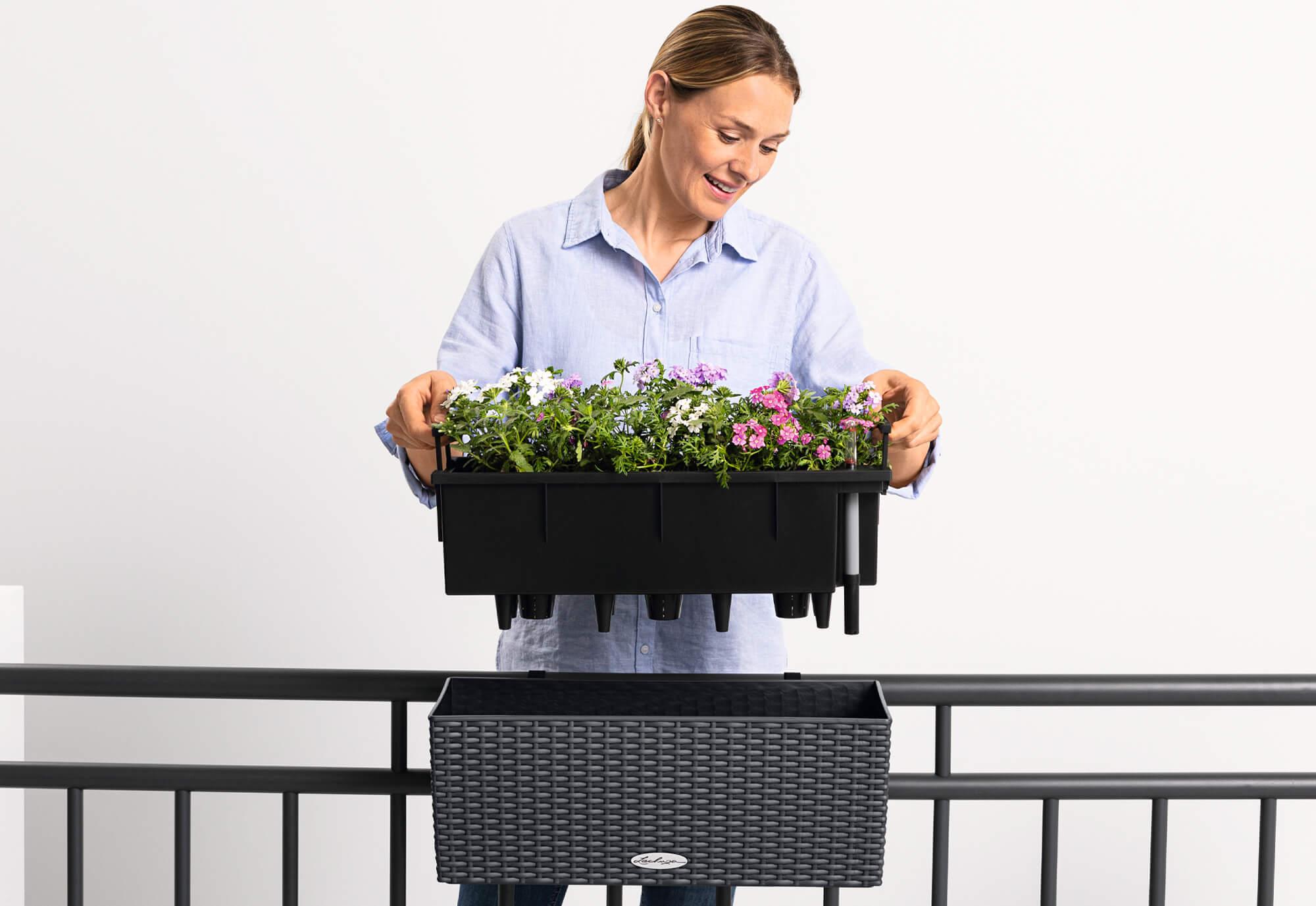 BALCONERA planter liner
sturdy carrying handles (patented)
conveniently plant the liners on the ground or a potting table
attach BALCONERA to railings or walls
easy transport even for tall plantings
can be exchanged on the spot and easily moved for winter storage
drain plug: is removed to allow excess rainwater to drain when used outdoors
TIP:
In case of inclement weather, you can quickly move your plants indoors without having to completely remove your BALCONERA, thanks to the planter liner!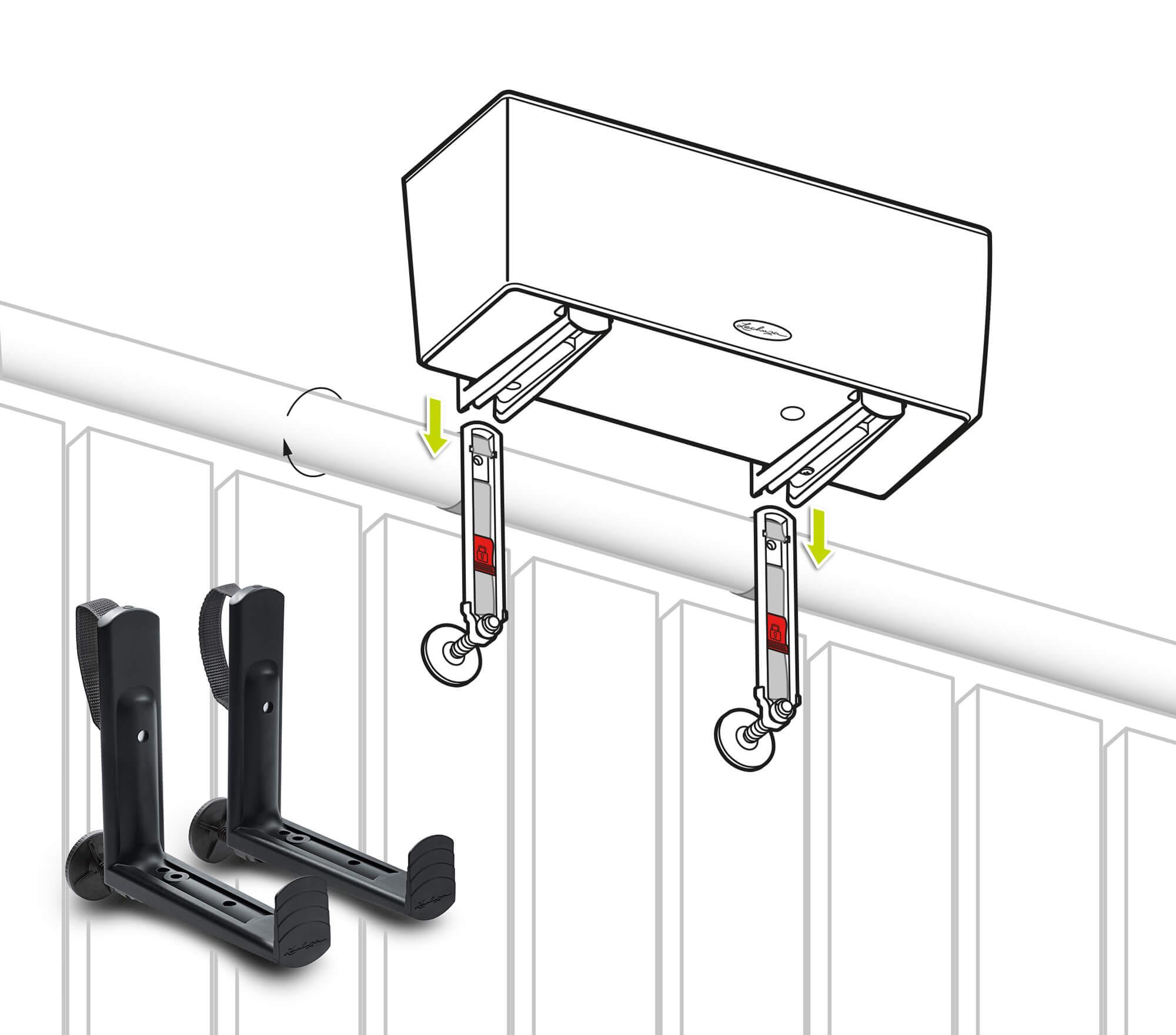 Available Accessories: LECHUZA balcony brackets
easy installation, sturdy support
compatible with BALCONERA 50 and 80
suitable for mounting on round and angled railings with a circumference up to 38 cm
soft textile straps prevent scratching of railings
can carry up to 25 kg
suitable for mounting on walls
With the adjustable screws, you can position BALCONERA so that it's level with your railing
The brackets are invisible from the front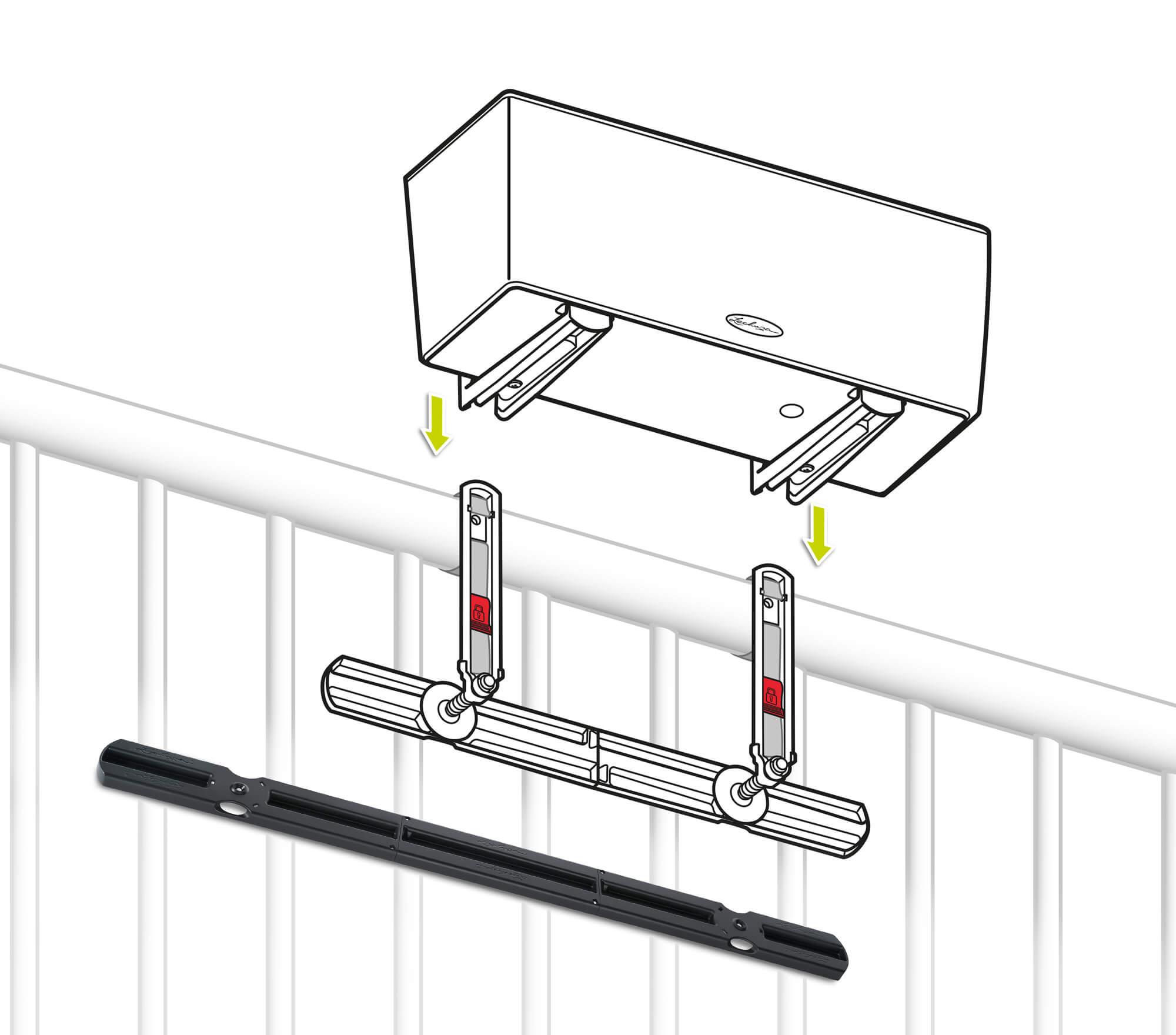 Available Accessories: LECHUZA extension for balcony brackets
a supplement for railings, ensuring compatibility regardless of spindle spacing
securely and perfectly fits every railing
compatible with BALCONERA 50 and 80
Dimensions & Capacity
| | | |
| --- | --- | --- |
| | BALCONERA 50 | BALCONERA 80 |
| Dimensions ~ (W x D x H) | 50 x 19 x 19 cm | 79 x 19 x 19 cm |
| Water reservoir | 3 l | 5 l |
| Plant volume | 8 l | 12 l |
| Planter liner, dimension ~ | 15,5 x 46,5 cm | 2 x 15,5 x 36,5 cm |
| Planting depth | 12 cm | 12 cm |
| Plant height max. | 30 cm | 30 cm |
BALCONERA 80
| | |
| --- | --- |
| Dimensions ~ (W x D x H) | 79 x 19 x 19 cm |
| Water reservoir | 5 l |
| Plant volume | 12 l |
| Planter liner, dimension ~ | 2 x 15,5 x 36,5 cm |
| Planting depth | 12 cm |
| Plant height max. | 30 cm |
BALCONERA 50
| | |
| --- | --- |
| Dimensions ~ (W x D x H) | 50 x 19 x 19 cm |
| Water reservoir | 3 l |
| Plant volume | 8 l |
| Planter liner, dimension ~ | 15,5 x 46,5 cm |
| Planting depth | 12 cm |
| Plant height max. | 30 cm |