out of stock
Total price
Please note that sales tax applies in several provinces: read "Terms and Conditions". All prices are exclusive of decoration and plant.
Shipping and Handling: Over C$ 250.00 free.
Regular Service: 7-10 Business days.
TRIO Cottage 40 granite All-in-One Set
versatile trough planter
TRIO Cottage is a versatile trough planter with interchangeable planter liners and an optional trellis that is not only perfect as a patio divider or privacy screen but also for growing your own fruits and vegetables. The optional TRIO pedestals are the perfect addition.
Available as an accessory: TRIO trellis with adjustable cross braces (TRIO 30 comes with three; TRIO 40 with four) and plant clips
Accessories: the optional TRIO pedestals are the perfect addition
All-in-One Set includes

planter + 3 x planter liner + 3 x sub-irrigation system
planter liner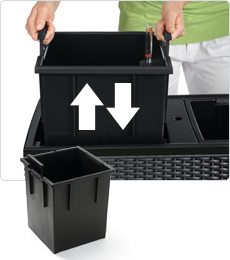 sturdy carrying handles (patented)
easy transport even for tall plantings
can be exchanged on the spot and easily moved for winter storage
The TRIO 30 planter liner also fits in the CUBICO 30, the TRIO 40 planter liner also fits in the CUBE 40, CUBICO Alto and CUBICO 40.
drain plug: is removed to allow excess rainwater to drain when used outdoors
The original LECHUZA sub-irrigation system
LECHUZA's sub-irrigation system takes care of your plants for you for up to 12 weeks, ensuring that they receive the right amount of water and nutrients they need for optimum growth.
available accessories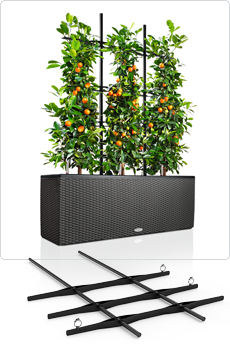 trellies
secure support for climbing plants, shrubs and vegetables
with adjustable cross braces (TRIO 30 comes with three; TRIO 40 with four) and plant clips
the optional TRIO trellis lets you create a green privacy screen in an instant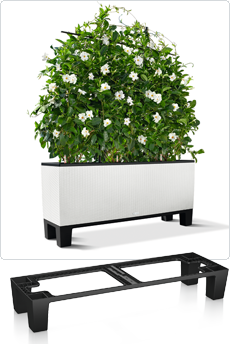 pedestals
raise TRIO 30 and 40 by 15 cm
available in two sizes for TRIO 30 and 40